Looking at cruise brochures, it can be hard to differentiate between the various Caribbean itineraries. But once you know what you're looking at, distinct differences emerge. Here, we compare the most popular two routes — Eastern and Western — to see how they stack up: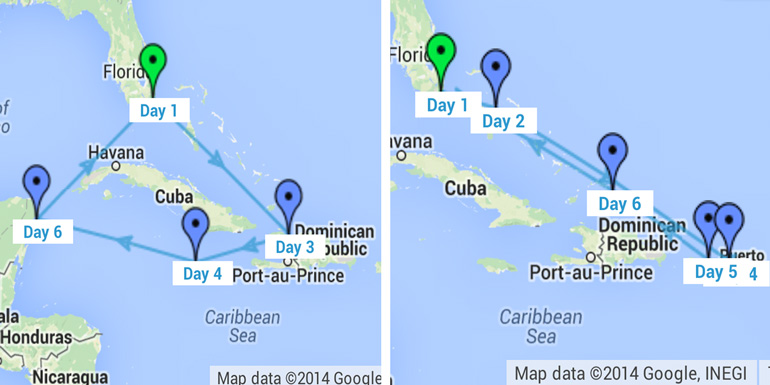 Western itineraries (left) combine island hopping with stops in Central America, but have more sea days as a result. - Photo by Google
Seven-night, year-round cruises are the most common option in both regions. Eastern routes sail from ports in Florida or from ports along the East Coast. Western itineraries sail from Florida or Texas, and sometimes New Orleans.
If you prefer visiting as many ports as possible, go for Eastern Caribbean sailings that depart from San Juan or St. Thomas — the time you would have spent sailing from Florida is made up by stopping at five or six islands. Western Caribbean routes, on the other hand, rarely stop at more than four ports.
Dave and Donna Itinerary Winner: Draw
Western routes are best for history and nature, and Eastern ones rank high for beach hopping.
Beaches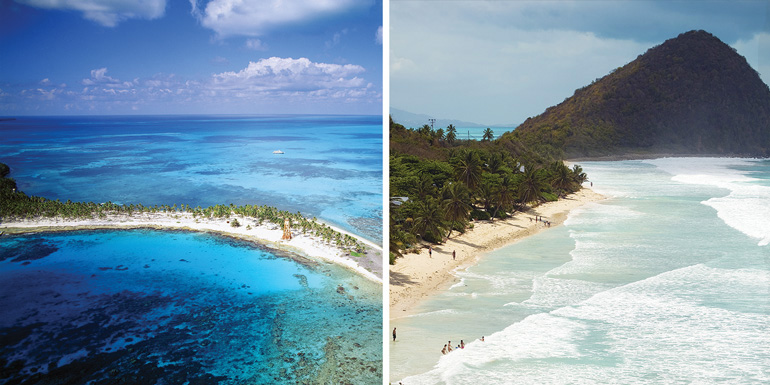 You'll find good shores on both routes: Jamaica's Negril and Grand Cayman's Seven Mile Beach in the West, and too many to count in the Eastern Caribbean's British and U.S. Virgin Islands, especially the perfect strips of white sand on Jost Van Dyke and St. John. The East's tiny islands of St. Barts, Les Saintes, and Anguilla are also home to drop-dead gorgeous coastlines.
Dave and Donna Beaches Winner : Eastern
This is a close one, but we're going with the Eastern Caribbean due to its quantity of gorgeous strands
.
Activities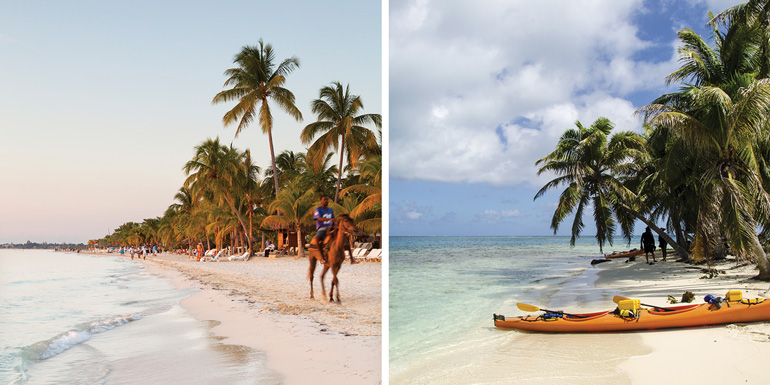 If you need more than sunbathing, shopping, and bar hopping, then the Eastern Caribbean itineraries might seem limiting to you. Yes, you can work up a sweat ziplining in St. Martin or kayaking off the coast of Tortola, but generally speaking, Eastern routes offer less to do beyond beaches and water sports.
Western Caribbean cruises are well rounded: In Mexico you can explore pre-Columbian temples or tube through underwater caves. Scuba dive off the shore of Grand Cayman where dramatic underwater cliffs attract abundant sea life, or try horseback riding through the surf in Jamaica, an island with a tradition of horse racing.
Dave and Donna Activities Winner: Western
You can crawl around ancient ruins, go bobsledding, and tour coffee plantations — all on a one-week cruise.
Weaknesses
Both regions have downsides: The Western's Grand Cayman can be a dud, as the port is sometimes canceled due to heavy winds and surf (ships anchor and shuttle passengers ashore via tender boats), and Jamaica is known for vendors with aggressive sales tactics. Meanwhile, St. Thomas and St. Martin on Eastern routes can see thousands of cruise passengers in town at the same time, causing epic traffic jams.
Dave and Donna Overall Pick: Western
The Western Caribbean is more of a smorgasbord than the Eastern, so our vote goes for variety.
Happy Cruising!!